We are proud to announce our partnership with Esri to enable security-conscious U.S. organizations to be able to use Site Scan, Esri's unmanned aerial systems flight planning and processing solution, to plan and execute missions with drones powered by Auterion, which includes the trusted and secure Freefly Astro.
Site Scan for ArcGIS is an all-in-one, cloud-based drone mapping solution for collecting, processing, analyzing, and sharing data products. It is used by organizations that require drone imagery for visual inspections, site monitoring, asset management, and situational awareness across architecture, engineering, construction, natural resources, infrastructure, and government.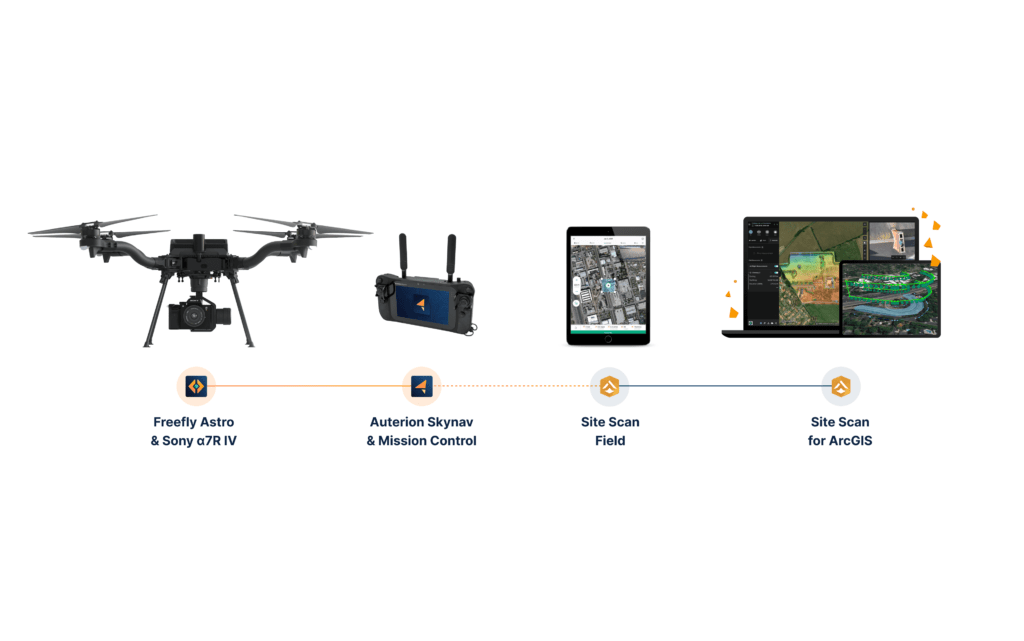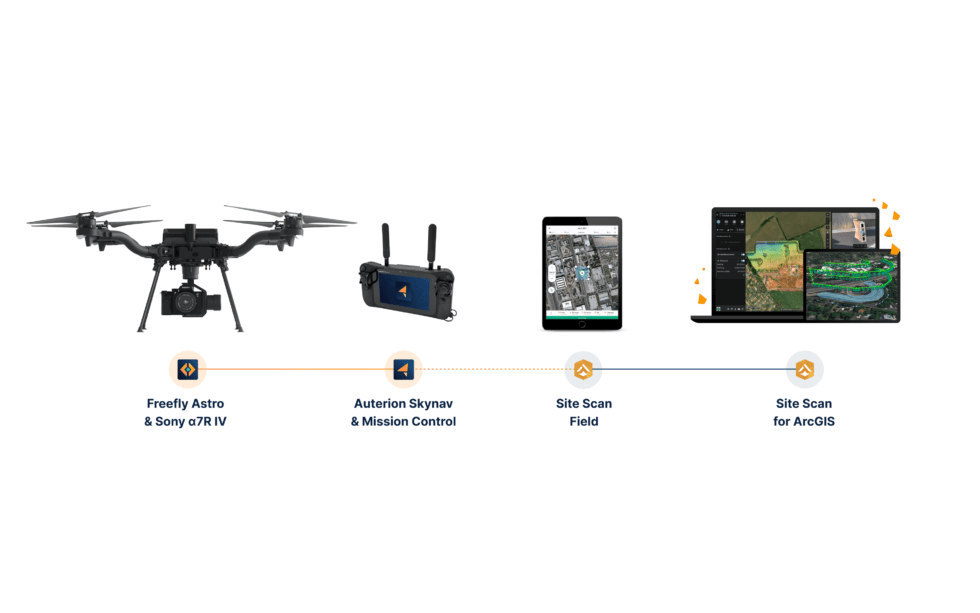 The U.S. government recently issued a growing number of advisory warnings and bans on the use of drones that pose security risks. These precautions have adversely impacted federal agencies and private firms that manage critical infrastructure, causing them to adopt incongruous drone data capturing and processing workflows that consist of multiple vendor solutions.
The partnership between Esri and Auterion now offers these agencies, end-to-end drone solutions, using U.S. Department of Defense-approved Blue sUAS software architecture from Auterion, that is fully supported by Site Scan. The first will integrate the Freefly Astro, with more vehicles becoming available.
"The relationship we have established with Auterion is key in being able to offer high-quality, secure drone software to our U.S. customers looking to take advantage of our advanced, secure, drone-based imagery collection and management platform"

Richard Cooke, Esri director of imagery and remote sensing
Instances like the US Interior Department grounding their drone fleet no longer need to occur with the introduction of Esri and Auterion's end-to-end solution. Customers now have access to the most comprehensive and secure, fully integrated enterprise workflow for mapping with the Freefly Astro, Sony α7R IV, and Esri Site Scan available within a single platform. 
Providing safe, secure, and auditable systems based on open source software is a key part of our mission to accelerate the adoption of autonomous systems. In conjunction to this we are continuously adding new partners to grow our ecosystem of vehicles, payloads, and apps available on the Auterion platform.
With each partner that joins the ecosystem, customers have access to enhanced functionality, through more vehicles, apps, and integrations, all enabling the extension of their drone systems over time. Our recent partnership announcements with Freefly Systems, Sony and now Esri truly display the power of the ecosystem to deliver the most value to customers.
Learn more about Esri within the Auterion Ecosystem
Read the official announcement