Built for drone manufacturers and their customers
On top of PX4, we offer trusted software and services to help you bring products to market fast, operate them safely and reliably, while keeping data secure. Auterion Enterprise PX4 includes the components that run on the drone and on the ground station, as well as the cloud tools to manage and monitor the devices.
We develop the software infrastructure while you build your product. Our toolset lets you deploy your customized software components on the drone without compromising the mainstream functionality. Therefore you retain the freedom to operate and differentiate, without the need to build up the core system from scratch.
Drones are hard and product benchmarks are increasingly high. With Auterion you leverage the power of open source to stay on the technology curve and avoid reinventing the wheel. At the same time, our cloud dev ops tools show you the insights that help optimize your product during development and get it to market faster.
When your drones run Auterion, your vehicles are online. You get insights about your operations efficiencies, functional performance, and predictive maintenance. Together with the infrastructure to deploy remote software updates you have access to important information that help you offer real-time and better support to your customers.
We have your back
As an Auterion customer, you get premium access to our concierge service. Your success is our top priority. Our team of experts is looking out for you, working together with you during product development, technology integrations, and supporting when your products are deployed in operations.
Long before Auterion existed, our engineers literally invented PX4, as well as QGC, Pixhawk, and MAVLink. By working with Auterion you get access to some of the original team members of the project and their deep knowledge of the system. As part of our concierge service, we can help adapt and unlock the potential of PX4 according to your requirements, and ensure that your products stay up to date with the latest PX4 advancements.
The drone industry is filled with companies selling monolithic software, holding on to the antiquated approach of licensing, upgrades, in addition to maintenance contracts. The Auterion subscription gives you access to enterprise-ready software, updates, information, and support services that span your entire product architecture and life cycle.
Drones running Auterion Enterprise PX4 are trusted and safe to fly. Under Auterion's guidance, the PX4 software has been audited by several civil aviation and government authorities, meaning your drones have a fast-path to certification and permission to exceptionally fly in denied airspace. Additionally, our advanced autonomy capabilities, such as obstacle avoidance and precision landing, are enablers for BVLOS operations.
Auterion Enterprise PX4 is the trusted and audited drone software platform used by government agencies around the world. Robust and hardened for cybersecurity, our pre-certified software enables your drone to more easily pass the strict requirements needed to sell into government applications.
Offer the best to your customers
Companies using drones aim to deliver greater business value by increasing productivity, delivering services faster, and doing what was not possible before commercial drones where available. Operators' requirements for capable, safe, and easy to use drones are increasing. Drones powered by Auterion have an open, secure, and trusted platform to support those requirements.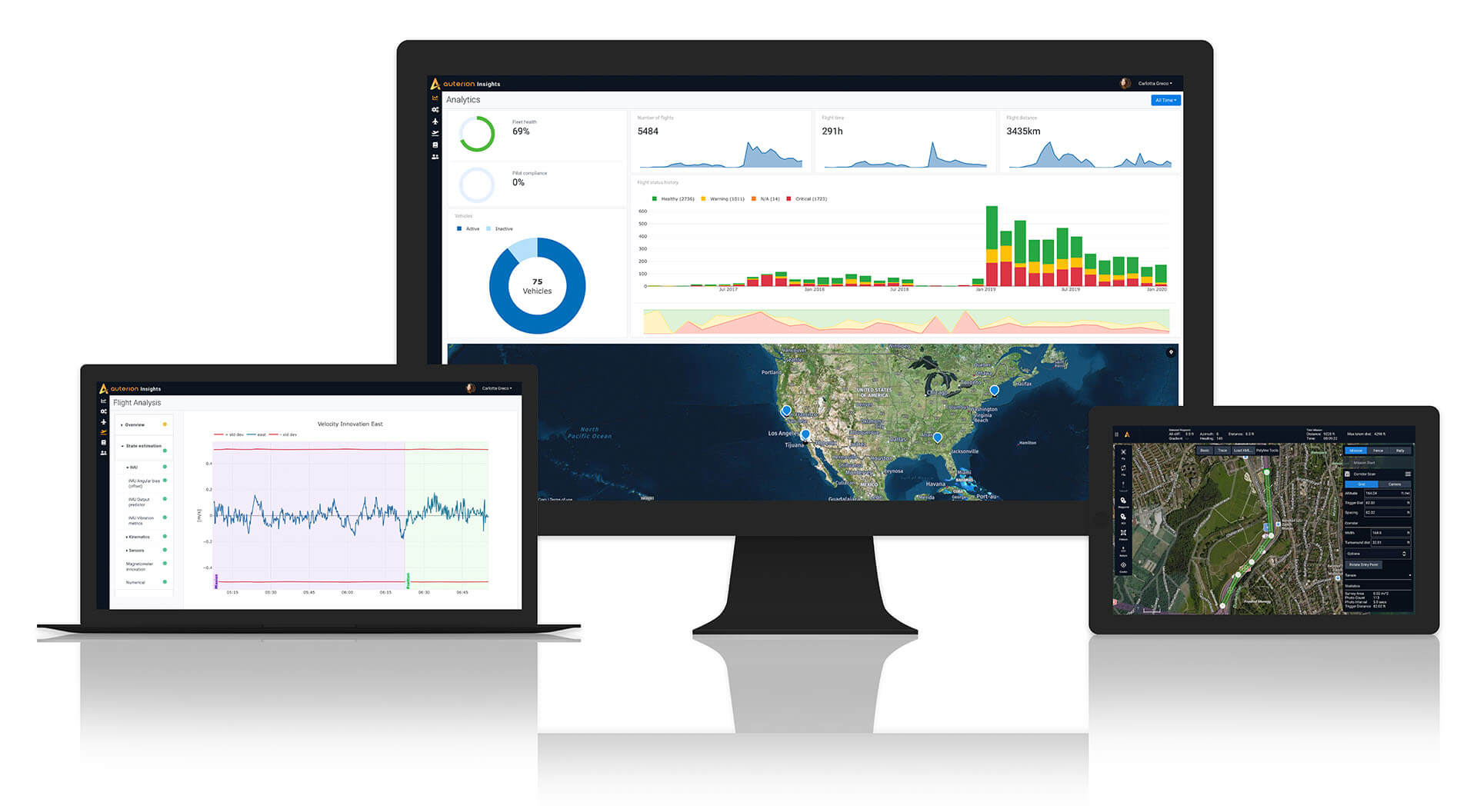 Discover more about our product