We are excited to announce the next releases of Auterion Enterprise PX4, the software that controls drones powered by Auterion, as well as Auterion Mission Control, the ground control software to control drone operations. Among the many improvements, one particular focus was on the increasing demand of our customers to enhance VTOL operations. With the current rise of interest in drone delivery and the persistent use of UAS for mapping and inspection over large distances, VTOL missions are of higher demand than ever.
Auterion Enterprise PX4 v1.4
Auterion Enterprise PX4 is the part of the Auterion software platform that runs on board drones. It contains our stable and tested version of the PX4 flight control kernel. On top of that, it adds software capabilities such as payload control, communication link management, live video feeds, and an autonomy engine to support various drone applications. It also eases operations and maintenance with automatic flight log handling, software updates, and configuration management.
Our newest release improves different aspects of the platform to enhance functionalities and improve user experience.
Automatic Hover Thrust Estimator
To maintain altitude, drones need to automatically control their hover thrust. Estimating hover thrust is also important for autonomous landing and landing detection. This is especially challenging for vehicles with variable weight, such as cargo drones. The new hover thrust estimator (HTE) for multirotors and VTOL planes continuously tunes the hover thrust for improved flight performance and more reliable land detection even with variable weight.
RC override during takeoff
Quality assurance during drone development and maintenance continuously requires test flights. To reduce the risk of crashes during QA at all times, test engineers are ready with their remote control to manually take over flight control in case anything unexpected happens. With the new release, test pilots are now able to override automatic flying already during takeoff to further reduce the risk of crashing a vehicle.
Safer VTOL operation
VTOLs are the drone of choice for operations that require both long endurance and the ability to land in confined spaces, such as delivery or long-range mapping flights. Particularly in windy weather situations, the transition between hover and fixed-wing flight is critical for the safety of a VTOL operation. With various improvements and fixes of VTOL transition behavior, our newest release makes flights safer and more reliable. One example is the new return-to-launch (RTL) behavior. VTOL drones will now loiter to descend to a safe altitude before entering a back transition.
Synthetic magnetometer Z measurement
For vehicles with heavy compass disturbance, this new feature enables the use of a synthetic value for the z-axis of the magnetometer calculated from the 3D magnetic field vector at the location of the drone. This allows the use of the compass for heading estimation in situations and with vehicles where this previously was unsafe due to compass disturbances that may be caused by other components on board the drone.
Auterion Mission Control v1.8
Auterion Mission Control is the ground control software used to control operations with drones flying with Auterion Enterprise PX4. The new release comes with a number of features to improve the user experience for operators using our ground control software.
Mission Control: The new name of our ground station software
The ground station software is a core piece of any drone operation. It is used to plan and execute the operation and to keep control over the mission at all times. That's why we decided to give this crucial part of the mission a new, more representative name: Auterion Mission Control. Like NASA's Mission Control Center, Auterion Mission Control is the centerpiece of your drone mission and lets you operate with confidence.
Easier and safer operation of VTOL drones
Cargo, delivery, and mapping operations often rely on VTOL drones for their ideal combination of flexible takeoff and landing with high speed and long endurance flight performance. Performing and controlling VTOL operations is easier and more convenient with our newest Mission Control release: Trajectories are now dynamically displayed during mission planning allowing a much more accurate prediction of the actual flight path. We also added new, VTOL specific checklist items, enabled region of interest (ROI) for VTOL vehicles and gave operators the ability to control transitions from the GUI.
Distance indicators for collision prevention
Inspection flights often require drones to fly close to the inspected assets. Avoiding collisions is key to protect your assets as well as prevent the inspecting drone from crashing. Color-coded indicators now warn operators of collisions directly in the visual field of the camera view. Furthermore, we added an indicator to display the health of the collision prevention sensors. This enables operators to fly close to objects without increasing the risk of a collision.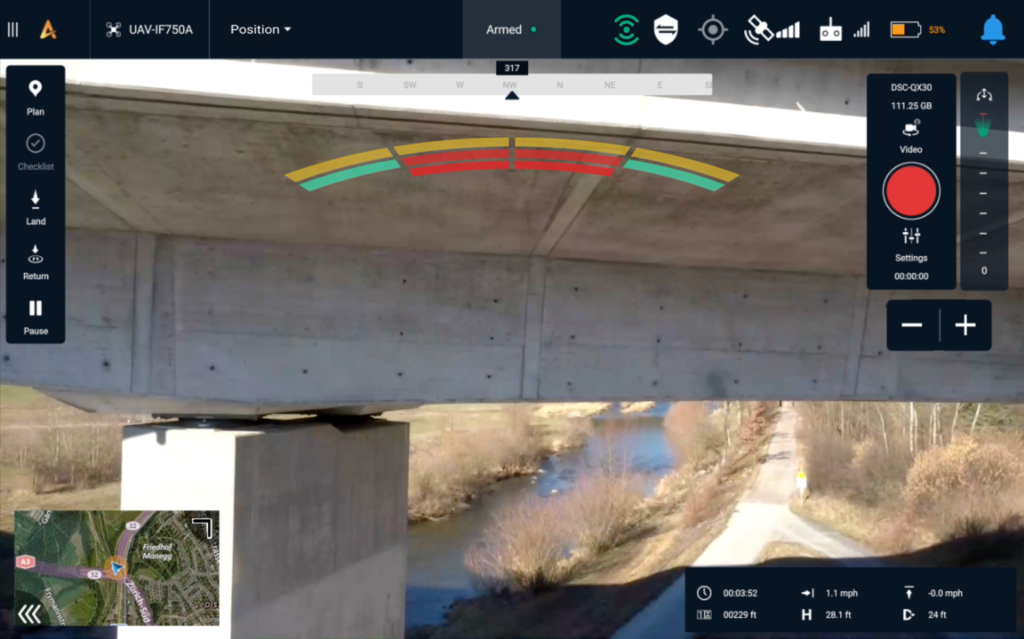 More convenient control of operations
The goal of every release is to make Mission Control more convenient and hassle-free for operators. With this release we added the ability to pause, edit, and resume missions on-the-fly. You can now also command the vehicle to fly to a different waypoint without interrupting the ongoing operation. And when planning missions, all mission items will stay visible even when switching to the geofence or rally view.
Further reading
To see the full list of updates, fixes, and improvements you can read our release notes here:
https://docs.auterion.com/release-notes/
For more information on the usage of Auterion Mission Control, please read our online documentation:
https://docs.auterion.com/auterion-mission-control
More details on both the Auterion Enterprise PX4 and the Auterion Mission Control product can be found on our website.