Another year, another successful InterDrone
Overheard at the show
The focus and quality of the keynotes, panel discussions and sessions were noticeable, according to feedback from colleagues and other show participants. The consensus was that this year there were fewer "dreamers" and more "doers", which was confirmed by a large number of attendees representing corporations in aviation, construction, energy, and media, as well as participation by the leading industry experts and influencers.
One common point of discussion was a recent media story predicting a burst of the "drone bubble", however, most agreed the story was exaggerated and were quick to point out all the recent industry partnerships, and acquisitions, as proof that the commercial drone industry is still growing at a healthy rate.
FAA declares itself "open for business"
FAA Deputy Administrator Dan Elwell kicked off the conference with the Grand Opening keynote address. Elwell started by acknowledging that the drone industry might be hesitant about the FAA, but emphasized throughout his speech that the FAA is willing to work with the industry. He stated that drone integration is a focus for the agency, and they are "100 percent committed" to that goal. His most notable line was; "If there is one thing I want you to leave here with, it's this: the FAA is open for business," and "we are not your adversary."

FAA Deputy Director Dan Elwell Grand Keynote Address. Photo credit: InterDrone
Auterion takes center stage
Lorenz presented his keynote to a full room, impressing the audience with his ability to explain complex concepts in layman terms. Lorenz focused on the key drivers behind the success of open source and how it will transform the industry in 2020, how drones are becoming software-defined, and how we will soon see "apps" being run onboard drones.
Drawing comparisons to the dawn of the automobile and computer industries, he also discussed how hardware will become increasingly standardized while reductions in cost will enable the development of completely new applications. The talk wrapped up with predictions of the main software trends of the next five years when new safety regulations will again change how software on drones will be developed. You can view the keynote here.

Lorenz Meier, Auterion's Co-Founder
On the technical side, Jonas, together with Dronecode program manager Ramon Roche showed how developers can use MAVSDK to control MAVLink based drones and shared their experiences working and integrating with the MAVSDK community. MAVSDK is a set of libraries in different programming languages that provide a high-level API to MAVLink, providing easy to learn programmatic access to vehicle information and telemetry, and other operations. More information on MAVSDK can be found here.
Additionally, Johannes held a presentation on how cloud-based tools for automatically uploading, monitoring, and analyzing UAV flight logs can be employed to increase the reliability of UASs and to verify the integrity of UAS software. While highly technical in nature, both presentations were well received in the growing PX4 community.
Finally, Michael held a presentation on how using hardware reference designs is the key to scale and rapid development for a drone manufacturer. Hardware reference designs guarantee compatibility with upstream open source software and other peripherals. Moreover, sharing hardware design principles ensures compliance with requirements on placement and integration and improves the quality, reliability, and robustness of these components. Hardware reference designs are an excellent choice to create industry-wide standards when faced with a wide variety of products and use cases, reduce the room for error and mistakes when building complex products like drones, and provide a solid foundation when customization and flexibility prevent a one-size-fits-all solution.
A surprise visitor
Following his keynote, FAA Deputy Director Dan Elwell toured the halls and made an unscheduled stop at the Auterion booth. Mr. Elwell recognizes a need for the development of common standards that have industry adoption and learned how Auterion enables drone manufacturers to efficiently integrate our software and quickly introduce new products to the market. Interestingly the FAA selected this photo of Auterion's marketing manager Carlotta Greco and Dan for all their InterDrone social media post.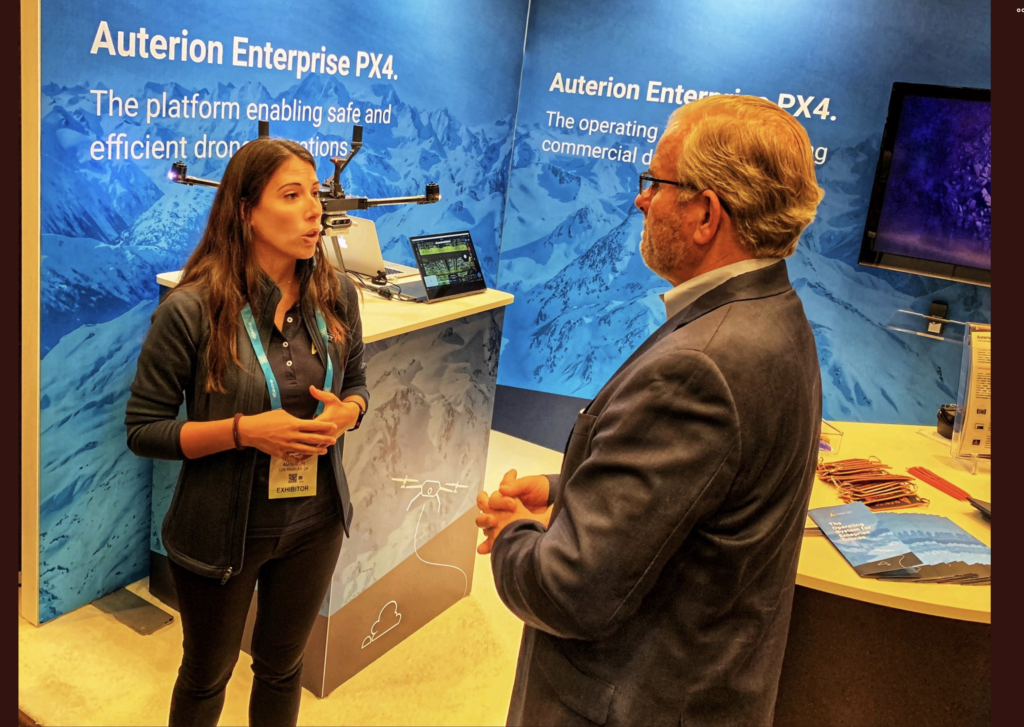 Carlotta Greco, Auterion's Marketing Manager explaining Auterion Enterprise PX4 to FAA Deputy Director Dan Elwell. (Photo credit: FAA)
Community matters
Auterion, together with our friends at AirMap and Dronecode, sponsored our second annual community appreciation event close to the Interdrone venue. The room was buzzing all night with a mix of developers, marketers, engineers, and executives mingling and discuss the latest news from the show and industry happenings. Oh, and the margaritas and tacos were delicious too.
InterDrone 2019 was another great success for Auterion. Our booth was heavily trafficked, and our keynote and presentations were well attended. Most importantly, Auterion was received as an established player in the drone community at this year's show and beyond.