An Auterion SDK with everything you need to develop apps for autonomous systems, featuring an enhanced developer workflow.
MOORPARK, Calif. and ZURICH – May 9, 2023 – Auterion, the technology platform behind unified robotic workforces and powering the world's leading drone manufacturers, today live from Xponential 2023 announced an app development workflow for AuterionOS to enable developers to build apps to run upon any Auterion powered system.
Drone manufacturers and third party developers can use this workflow to improve the performance of vehicles and add key capabilities to their products that enhance the end use experience.
"Apps that run on enterprise drones enable customers to extend the capability of their systems to automate tasks and process information from the field to the office more efficiently," says Markus Achtelik, CTO at Auterion. "This means they can streamline their operations and reduce costs. Drones equipped with specialized apps can perform tasks that would otherwise be impossible for standard vehicles, such as autonomous utility inspection or package delivery, all while connecting to the existing business logic of the end-user."
Apps for Cargo Delivery and Defense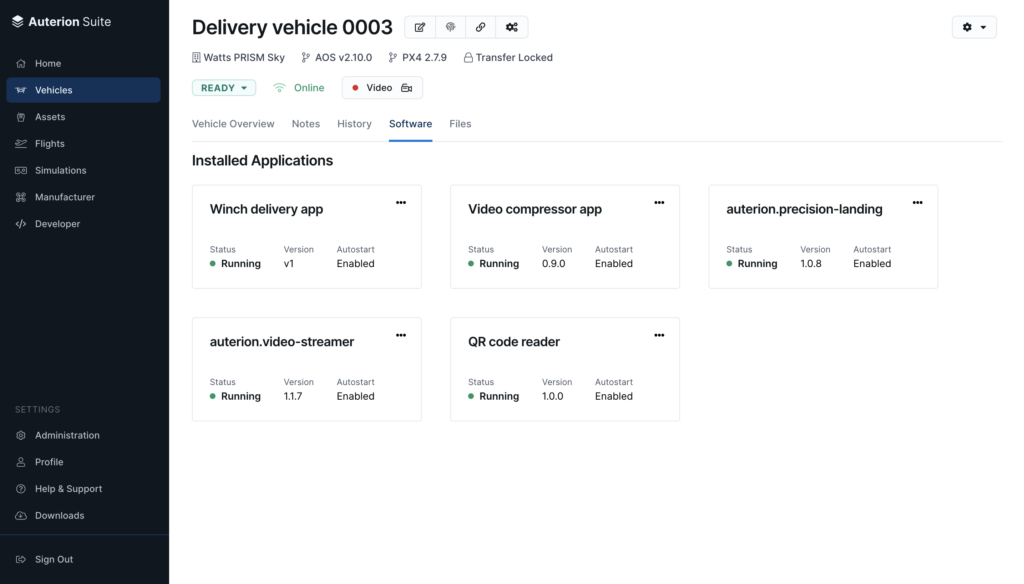 Auterion ecosystem partners are already running apps on AuterionOS to make cargo deliveries in the real world. The set includes the following applications developed by different companies:
Winch Driver app: controls the winch carrying the delivery payload
Precision Landing app: detects landing targets and helps the flight controller land on it
Video Compression app: uses AI Node to compress the live video feed and save bandwidth
Mission app: controls the drone and executes delivery missions
GPS Denied Navigation app: uses advanced onboard visual sensors to allow the aircraft to navigate in spaces that lack GPS
Swarm app: Capable of autonomously coordinating large groups of drones that work together to achieve a common goal
Other apps are being developed by partners to detect conditions that may obstruct a smooth landing, such as uneven terrain or a steep slope.
The Auterion App Store
This advancement represents the baseline for the Auterion App Store, where alongside existing partner apps, third parties and end users build apps that work independently of the specific drone or use case, to be available across the entire Auterion-powered fleet.
Developers will be required to use AuterionOS 2.7+ and subscribe to the Skynode Developer Program in the Auterion Suite to have access to the full suite of development tools.
Read the full documentation here.
About Auterion
Auterion is a cutting-edge operating system for autonomous computing that empowers a diverse range of autonomous robots to perform high-risk to mundane tasks, deliver goods, and aid in life-saving missions. Our industry-leading software drives the adoption of robotic fleets and is recognized by the U.S. government as the future standard for its drone program. Join the Auterion movement and experience the power of next-generation computing.
Learn more about Auterion at https://auterion.com/.